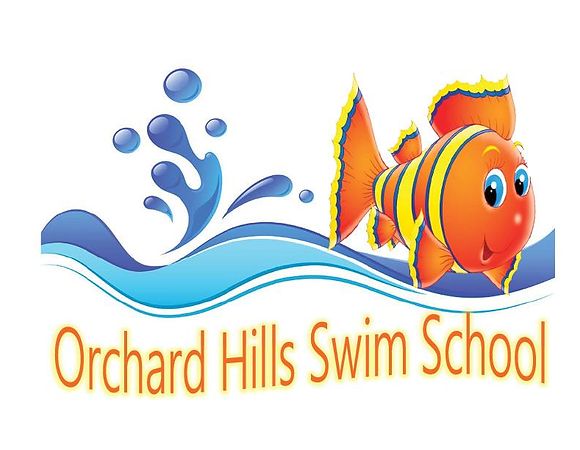 About OHAC Swim School
Orchard Hills offers a large variety of swim lessons based on the Red Cross curriculum for any level of ability and needs or disabilities. We provide a safe, comfortable, and fun atmosphere required to become a confident and a capable swimmer.
Our certified water safety instructors are experienced, engaged, and caring. They also recognize the importance of safety skills and water safety rules while using a variety of innovative equipment, teaching tools, and toys!
Meet Our Swim Instructors
Group Swim Lessons
Class Descriptions and Prerequisites
Little Nemos (for ages 6 months – 3 years)
Little Nemos is a parent and child class. It is a great way to get your child comfortable and learn some basic water skills through play, song and socialization with other children.
Big Nemos (for ages 18 months – 3 years)
Prerequisite: Children must have taken Little Nemos and instructor recommends moving up or comfortably demonstrate the following skills; kicking on own, able to submerge, comfortable on back with ears submerged, & hold onto the side independently. Big Nemos is an advanced level parent and child class with a more aggressive approach to swimming skills for older toddlers/preschoolers. Children will learn short distance independent swimming after submersion, back floating, and returning to side. We also introduce different types of floatation devices that help in learning to swim.
Mini Minnows (for ages 3 – 5 years)
Mini Minnows is a class for children who are just starting to learn to swim on their own without a parent. Your child will use a flotation device while in this class which we provide. Basic skills will be taught including wall walking, reaching, kicking, blowing bubbles, doggie paddle and floating on back. Children do not any need prior swimming experience, but need to be able to sit and wait turn on pool edge without parent and follow simple directions. (scooping hand, splashing, toes, etc)
Guppy Gills (for ages 4 – 6 years)
Prerequisite: Children must be able to submerge face comfortably and swim in a horizontal position with minimal assistance from a floatation device. Guppy Gills is an advanced level class for children who are building confidence, and are ready to start swimming on their own without any flotation device. They will learn breath control, arm extension, arm circles, and kicking structures.
Beginner 1 & 2 (for ages 5 + years)
Prerequisite: Children must be able to swim independently without the use of a floatation device 3-5 body lengths, without touching the bottom of pool. They also must be able to submerge their face comfortably. This class is for any child who is comfortable in the water and is ready to start developing strokes. Skills taught will include basics of front crawl, elementary backstroke, dolphin kick, treading water, underwater swimming, and front and back recovery. (goggles required)
Otters (for ages 6 – 9 years)
​This is a beginner class for children who need to build confidence in the water due to lack of exposure or experience. Basic floatation skills will be emphasized, in addition to breath control, arm extension, and kicking structures. Floatation devices will be used as necessary.
Intermediate 3 & 4 (for ages 6 + years)
Prerequisite: Children enrolled in this class must be able to do one pool length of the front crawl stroke with rotary breathing. Skills taught in Intermediate classes include the back crawl, sidestroke, breaststroke, open turns, advanced treading water technique, and survival skills. Building up endurance is also a prime component of this class. ( goggles required)
Advanced 5 & 6 (for ages 7 + years)
Prerequisite: Children must be able to do at least one length of the front crawl and one length of the back crawl and able to perform the basics of the breaststroke. Advanced 5 & 6 classes are for those who wish to perfect their stroke techniques as well as work on endurance. Children will also learn a basic butterfly, and flip turns.( goggles required)
Fitness Swimmer (for ages 7+ years)
Prerequisite:Children must pass Advanced 6 or have instructor approval to entering. This class will build on the skills taught in Advanced 6, such as stroke technique and efficient turns. Students will work on strength and endurance in a non-competitive setting. (goggles required)
Swim Club
Prerequisite: For those who are in level 3 – 6 here at Orchard Hills/Red Cross Program or equivalent. They must be able to perform a basic front crawl, back crawl, breast stroke, and dolphin kick. Orchard Hills Swim Club will provide an opportunity where swimmers can develop stroke/speed techniques, endurance, and competitive skills in a fun, encouraging environment among their peers. It is a great alternative for those who don't have time to commit to a swim team or want to learn what a swim team workout entails. All Students must wear swim caps and everyone must bring their own goggles and be ready to work hard! *One piece swim suit required for females, no rash guards (swim shirt) for male or female.
Private and Semi-Private Swim Lessons
Please view our package options below*:
*All Public/Non-Member Participants must purchase a package (minimum of 4 lessons).
Members may purchase single lessons, but are encouraged to purchase a package.
Frequently Asked Questions
What is your student to instructor ratio?

Our group classes maintain a 4:1 student to instructor ratio, except for classes requiring a parent in the water which hold an 8:1 student to instructor ratio.
What should my child bring to swim lessons?

Your child needs a swimsuit and towel. Non-potty trained children need to wear a swim diaper (we sell individual ones if needed). If your child tends to get cold easily we recommend purchasing a neoprene shirt, not a rash guard. Rash guards are actually designed to keep kids cool (as well as sun protection). Children should also wear crocs or sandals on pool deck.
Does my child need goggles?

We recommend goggles for swimmers in Guppy Gills through Fitness Swimmer. Swimmers must bring their own goggles that fit properly. Children are not allowed to wear masks with a nose piece in lessons. (make sure you purchase kids size or junior size goggles, we also sell them at front desk).
What is the water temperature and pool depth?

Our pool maintains an 84°F temperature. Our pool depth is 4 – 4.5ft.
What if my child is scared or cries during the lesson?

Our instructors are trained to work with fearful and nervous swimmers, and have strategies in place to help your child overcome fears and anxiety. Please stay calm and allow instructors to reassure your child and try to get them engaged in the lesson. Taking your child quickly away from instructor or out of the lesson could be detrimental and cause fears to be reinforced. If needed, instructor will call parent over for assistance, otherwise please stay seated on benches.
How long will it take my child to swim or pass a level?

It is impossible to determine how long it will take a child to learn to swim or pass a level. We work with each child's individual needs to help them progress at a comfortable, productive pace. Each level has specific criteria to pass and could take several sessions to achieve. At the end of each session parents will receive a progress report with skill progression. Also, please do not "coach" your child while in lessons. Positive encouragement is always welcome, but we ask that you allow your child's focus to be on the instructor for skill development and safety purposes.
Do you teach children with special needs?

Yes, often children with special needs develop an incredible joy of swimming and it can be instrumental in their physical and emotional development. If your child has special needs, please communicate with the staff or individual instructor their needs so we can be effective in helping them gain independence and enhance their swimming skills.
What if my child misses a lesson?

There are no makeup classes, credits, or refunds for missed classes.
Where do my children go to change before/after lessons?

We have individual changing rooms as well as locker rooms located right off the pool deck. There is also a shower on the pool deck for quick rinsing.
What do we do in case of inclement weather?

We do not call you if there is a snowstorm or threat of tornado, etc. Please check our Facebook page, website, or call the front desk before coming to class to see if a class will be canceled due to inclement weather. If class is canceled we will arrange a make up class for another day.
How do I register for classes?

All group registrations can be done online through our website or by phone at (978) 537 8387.